Are you dissatisfied with your smile but hesitant about committing to metal braces or another form of uncomfortable orthodontic treatment?
Invisalign® is a discreet, flexible, and comfortable alternative to bulky metal braces that can give you a straighter smile in months.
Why do so many patients at Harrison Dental Group in Fort Wayne, IN, choose Invisalign clear aligners?
Choosing Invisalign
5 Perks
Discretion
Your Invisalign trays will be nearly invisible to others due to their completely clear design using BPA-free plastic. This quality makes this treatment method highly desirable for many teen and adult patients. The aligners are so discreet, your close friends and family may not be able to tell you are receiving treatment.
Comfort
Unlike traditional orthodontics, Invisalign offers an unparalleled level of comfort. Due to the use of smooth plastic, the aligner trays used for Invisalign treatment are much easier on the soft tissues of your mouth, especially when compared to the brackets and metal wires of traditional braces.
Removability
Invisalign aligners are removable when cleaning your teeth and eating, so there is no need to avoid sticky, crunchy, tough, or chewy foods. This allows you to brush and floss without any restrictions so you can maintain your oral health while working towards a more beautiful smile.
Efficiency
Once the doctors at Harrison Dental Group have created your treatment plan, we can provide you with multiple sets of aligners. Unlike braces, which require frequent adjustments, this allows you to only have to visit our office once every six weeks so that our dentists can monitor the progress of your tooth movement.
Results
After your Invisalign treatment is completed, you can begin to enjoy your new smile. With straight teeth and a healthy smile, many patients benefit from an improved sense of self-confidence and overall quality of life.
Take a look at how removable aligners gently and discreetly fit over your teeth...
Many patients hesitate to ask their dentists about Invisalign because they think they won't qualify...
Invisalign Treatment
Has Been Used by Millions
"The staff are always polite and respectful. They are always on time and what ever you want to know they will explain it to you."

Tracee Childs
Straighten Your Teeth With Invisalign
Smile Confidently
With Invisalign
We look forward to providing you with high-quality, personalized care. Our team of professionals understands the importance of having a beautiful, healthy smile you can feel confident about sharing with the world. Orthodontic therapy using removable Invisalign aligners can provide you with a better-functioning and better-looking smile. If the thought of bulky traditional metal braces makes you hesitate to do something about crooked teeth, virtually invisible Invisalign aligners may be the answer.
Our dentists are preferred Invisalign providers who can review your candidacy during your initial consultation at one of our Fort Wayne offices. If you qualify for Invisalign treatment, we can begin to develop a customized plan to suit your unique needs.
To learn more about Invisalign, schedule a consultation by contacting us online or by calling our Fort Wayne, IN, offices at:
(260) 747-4747
Clear aligners can correct a wide range of orthodontic concerns...
"Harrison Dental Group has definitely boosted my confidence."
Additional Benefits of Invisalign
Much More Than a Beautiful Smile
By now, you have heard about the beautiful aesthetic upgrade you can achieve by undergoing Invisalign treatment at our Fort Wayne, IN, practice. But it is also important to understand that a straighter smile is also far easier to maintain through brushing and flossing. Properly spaced teeth provide fewer places for bacteria and debris to collect, which can help you avoid the need for treatment of decay, infection, and gum disease. A properly aligned bite can also help relieve symptoms of temporomandibular joint disorder.
This treatment is widely available...why should I choose Harrison Dental Group?
We Are Preferred Invisalign Providers
At Harrison Dental Group, we strive to provide you and your family with the best level of care. When you choose Drs. Keith Harrison, David Harrison, and Bradford Korn for your Invisalign work, you are in good hands because our dentistry practice is a preferred Invisalign provider. This means that we treat more than 50 cases per year using this sophisticated treatment plan.
As part of a special offer, we will gladly take $500 off of your Invisalign treatment if you choose us as your Fort Wayne, IN, dentist.
If you have been considering orthodontics for yourself or for your child, there is no better time than now, and no better practice than Harrison Dental Group. As our patient, you can expect predictable results that benefit the appearance of your smile, your oral health, and your self-confidence.
Are You A Candidate for Invisalign
Find Out If You Qualify
Although Invisalign clear aligners can treat most cases of misalignment, this treatment is not right for every patient. If you suffer from more severe malocclusion, Invisalign aligners may not be effective. In these cases, we may recommend traditional braces as a better solution. During your smile assessment at one of our Fort Wayne, IN, offices, we can evaluate your bite to determine the best orthodontic treatment for your needs.
Before Choosing Invisalign
Ask Yourself These Questions:
Am I Responsible?
In order for Invisalign to work as planned, you will need to stick to your treatment plan and wear your aligners 20 to 22 hours each day.
Do I Care How Braces Look?
Aligners are an especially good option for teenagers and adults, who typically want a more discreet orthodontic choice. However, braces may be a better option for younger children.
Can I Commit to Wearing a Retainer?
To keep your smile looking and feeling great, you will need to wear your prescribed retainer after you complete your Invisalign treatment plan.
Here's another look at the advantages of aligners over braces...
The Simpler, More Discreet Choice
We know you have many dentists to choose from...
We Want to Be Your Source
For Outstanding Dental Care
Our offices are designed with your comfort and convenience in mind. We have many treatment rooms at our dentistry practice, which means that you never have to wait long for your appointment. To help make it a pleasant visit for you and your family, we have a television and a designated play area for kids. To better serve the community we call home, we have two offices in the Fort Wayne, Indiana, area.
We aim to keep your care as affordable as possible, so we accept a number of insurance and financing plans. We also offer discounts for new patients. We know that once you visit Harrison Dental Group, our friendly and compassionate team of dental professionals will have you and your family smiling about the expert care you receive.
To learn more about the Invisalign system and how it can help you achieve the smile of your dreams, request a consultation online or call us at:
(260) 747-4747
"The best dental group I have ever been to."
"My daughter went to the dentist for a filling yesterday and she hates the dentist. Cindy went above and beyond to help my daughter feel comfortable and calm. Harrison Dental is the best dental group I have ever been to in all my 35 years. Everyone is so kind and helpful from checking in until you check out."

Tayvon Wendell
Our offices combine comfort and technology...
Advanced Tools
to Treat Your Smile
At Harrison Dental Group, we want to make orthodontic treatment as safe and efficient as possible. Our offices are equipped with:
Digital X-rays
Intraoral Cameras
These diagnostic tools help us understand your smile and its needs while exposing you to the least amount of radiation possible. They also allow us to plan treatment more accurately and efficiently than ever before.
A Closer Look
at an Aligner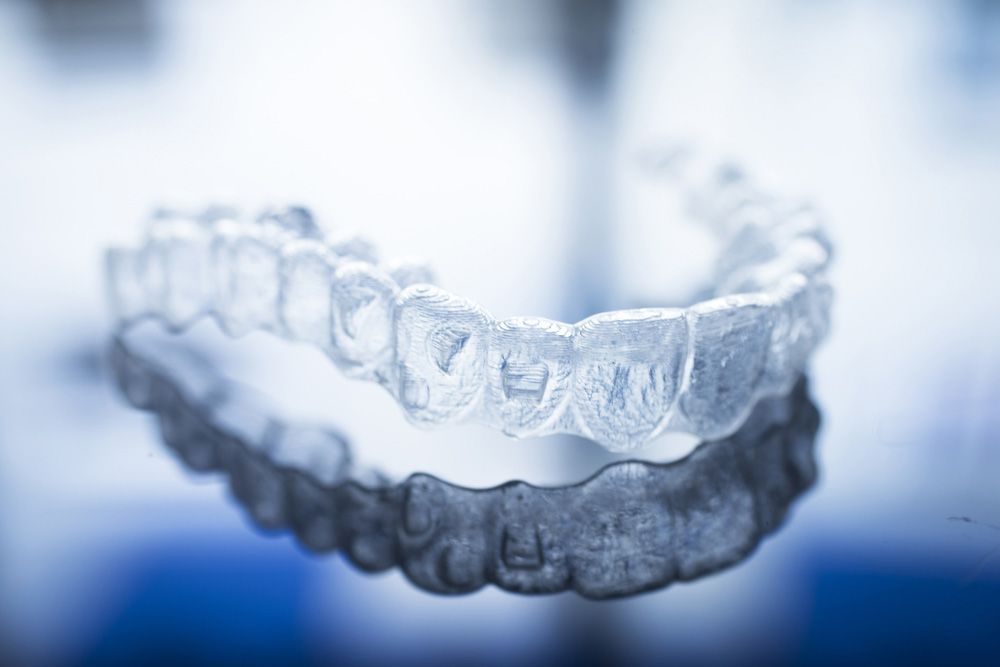 Wondering what to expect during the course of your treatment plan?
Straighten Your Smile With Invisalign
in 5 Steps:
In most cases, you can reach your final results in 12 to 18 months.
"They genuinely care about their patients."
"Danielle, Tiffany, and Angie was the best! From the moment I walked into the office, they made me feel very comfortable! They assured me that I would be taken care of, and that I had nothing to worry about. They genuinely care about their patients, and they make you feel very welcomed! I give this office, and the entire staff a perfect 10!"

Wanda Brawley
What happens when you complete treatment?
How To Maintain Your New Smile
After Invisalign
When you reach your desired results, you will continue to wear your last aligner or a custom-made retainer every night. These orthodontic appliances prevent your teeth from shifting out of place and help you maintain your newly straightened smile.
A straighter smile can improve your oral health, but you will need to do your part by continuing to brush and floss regularly. You should also visit one of our Fort Wayne offices every six months so that our dentists can help you maintain a healthy smile for life.
The Clear Choice
to Straighten Your Teeth Is Invisalign®