Update: We are seeing patients!
Harrison Dental Group staff will adhere to all CDC recommendations as they pertain to personal protective equipment (PPE). Staff will monitor for any respiratory symptoms and temperature. Social distancing and infection control etiquette will be followed as applicable.
Special Offer for Invisalign® Patients
We will take $500 off treatment so that patients can experience the simple and discreet Invisalign® orthodontic system.
A Comprehensive Practice
Serving Your Family's Diverse Needs
I just left Harrison Dental Group and the dentist was amazing. Been absent for 3 years and he picked right back up like no time was lost. A special thanks for Tina and Tiffany for keeping me calm and doing a great job.

Thanks again ☺
View On Google
I moved to Fort Wayne and was looking for a new dental home. Lucky for me I got it right the first time. A very warm and welcoming place. Everyone had smiles. It was just natural authentic atmosphere. I was in and out. No long waits or heavy paper work. The thing that I loved the most was how in depth they were with 1st time clients. They really took care of me. Not only that but they answer my every question to better my knowledge in this field. I left feeling like a million bucks. Tina was my hygienist and she took a lot of pride in her work.
View On Facebook
Contact Our Practice
to Maintain Your Dental Health
Going to the dentist for check-ups and cleanings may not be your favorite thing to do. But routine appointments offer so many benefits. By catching oral issues early, we can avoid the need for more costly and time-intensive treatments in the future. In addition, regularly visiting the dentist can help you maintain fresh breath and a beautiful smile.
Contact our dentistry practice online or call us in Fort Wayne at (260) 747-4747 to schedule an appointment at one of our two locations.
What Patients Have to Say
Today was my first visit to Harrison Dental Group and let me tell you it was superb! Dr. Keith Harrison was so knowledgeable and was on top of everything that was going on with my teeth. Amazing office and staff!

Nathan K.
Every Procedure
UNDER ONE ROOF
Our comprehensive dentistry services include:
Here at Harrison Dental Group, we are proud to provide the benefit of safe and effective digital imaging using Cone Beam Computed Tomography. Also known as CBCT, this technology utilizes a particular arrangement of x-ray beams that produces highly detailed images for our dentists to examine. Better yet, CBCT also uses low-power x-rays that provide the images and information needed with a much lower dose of exposure. As the machine is taking images, it moves to capture different angles of your smile, which can be compiled to create a 3-D representation, giving our dentists an abundance of information on the condition of your smile.
The data we capture with cone beam technology can be used in the planning of almost every one of our treatments and procedures, most notably dental implants. CBCT provides us with invaluable information about bone mass and the position of tooth roots, allowing us to design treatment uniquely fit for you.
How Dental Implants
Can Transform Your Life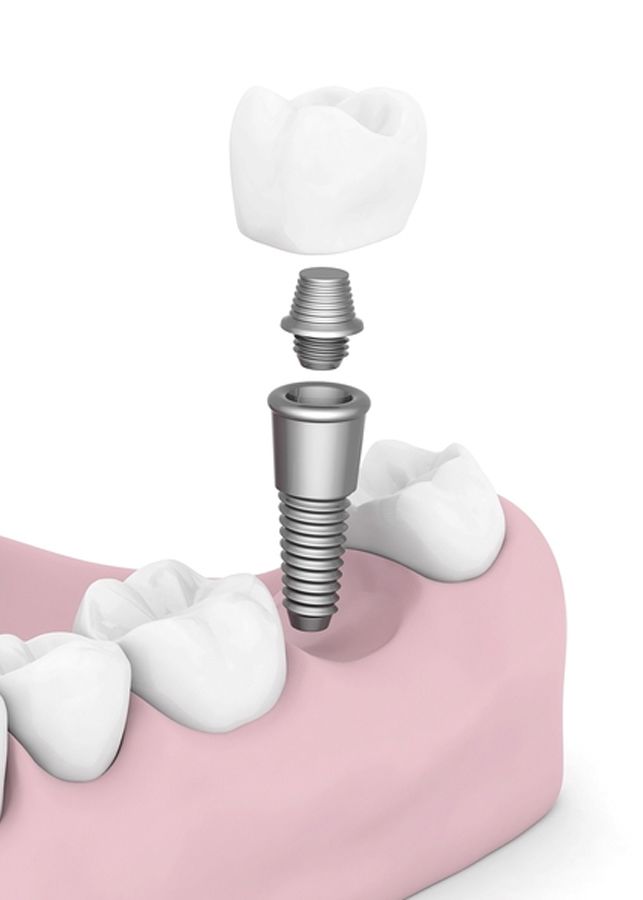 Missing teeth make it difficult to bite into and chew food, as well as affect your ability to pronounce certain words. They can also contribute to additional health problems in your mouth, including jawbone degeneration and movement of any remaining teeth. In addition to these functional and health issues, tooth loss can make you feel self-conscious about the appearance of your smile.
Whether you are missing a single tooth, multiple teeth, or an entire arch, we can restore your smile with dental implants at our Fort Wayne practice. This revolutionary treatment involves the placement of a titanium screw in the jawbone. The implant effectively replaces the missing root of your tooth. Once the surrounding tissues heal around the implant, a permanent restoration can be attached, restoring your tooth both above and below the gum line.
Dental implants address all of the problems associated with tooth loss. Because they are secured within the jawbone, you can eat all types of foods, even steak or apples. In addition, implants maintain the health of your jawbone, preventing the loss of volume that can lead to facial collapse. Finally, implant-supported restorations improve the appearance of your smile.
Our Prestigious
Affiliations
Welcoming Atmosphere
and Affordable Care
We believe that everyone should have access to the dental care they need. Our doctors are committed to providing affordable services. In addition to accepting Healthy Indiana Plan (HIP 2.0), we offer various financing options, including:
Take a Tour of Our Offices
Winchester Rd. Office
from the first moment I called in I was given the most professional courteous assistance right from the start. All my questions were answered any concerns I had were addressed discussing the staff and the environment was crucial to me as we are looking for a new Dental Group for our family to see. I was treated with respect...
View On Facebook